HF&G ISSUE 3 - APRIL 2020 - FLATTEN THE FEAR
April saw a massive rebound in global stock markets as investors went from extreme fear to maximum uncertainty. This month HG&G talks 1968 HK Flu, Covid-19 hysteria, and deep value Uranium juniors.
April was an interesting month with a sharp rebound in stock markets globally. US markets continue to be dominated by five massive technology companies as illustrated by a recent BAML graph. HF&G's general advice to investors looking at those names: buyer beware. The last time such concentration happened in 2000 it didn't end very well. Things could be different this time as the dominance of companies such as Amazon, Microsoft and Apple is just unparalleled.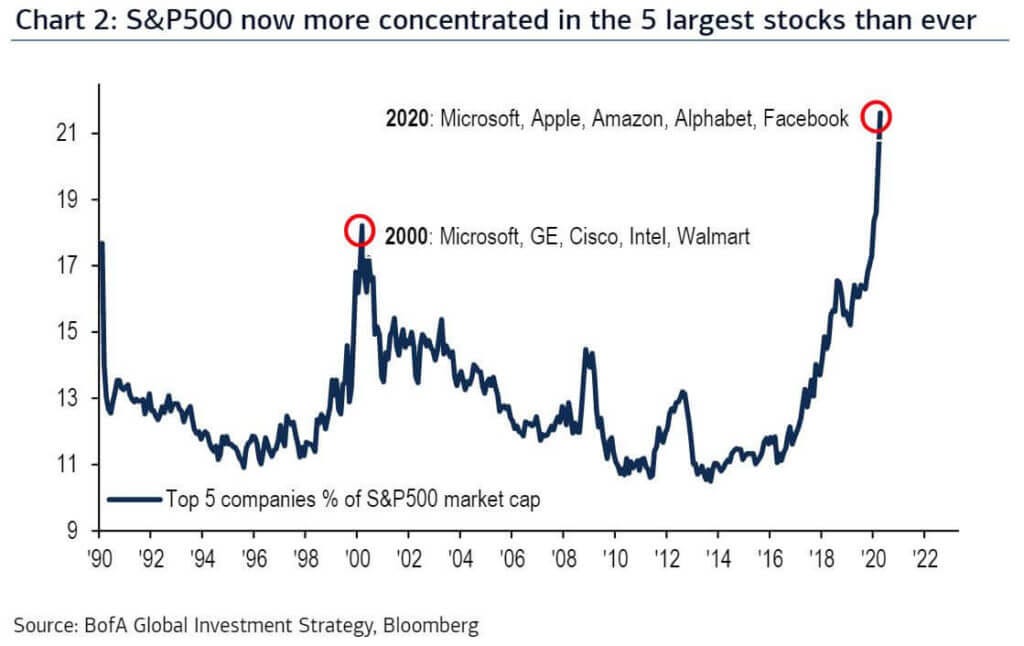 HF&G will continue to focus on Asia where we specifically look for:
1) Yield plays and 2) small and micro-cap stocks. As explained in March we also added physical gold as its an asset class on its own.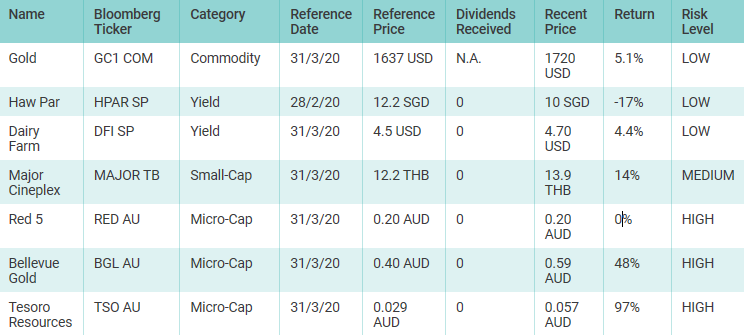 Looking back at our stock recommendations so far we note that our February dividend pick is down 17% but most of our March recommendations are up. Notable riser has been Tesoro Resources, who's stock appreciated from 0.029 AUD in late March to 0.057 AUD late April. That's a gain of 97% in less than a month. Bellevue Gold was also up a respectable 48%.
HF&G is not a "get quick rich" scheme so these kind of returns are nice to see but will remain HIGHLY unusual. Why did Tesoro rise so much? Can it go up more? Our full portfolio review, including our new April picks will be published in a separate note only available to subscribers.
Not a subscriber yet? A subscription costs less than 1 USD/day and one good recommendation can make you back multiple times your annual subscription.
---
2020-2030: Asia's Decade
For new readers, the long-term thesis, and prime belief of HF&G is that 2020-2030 promises to be Asia's decade and the region will outperform Western markets. Since there is too little coverage and focus on Asian investment ideas HF&G will help readers to uncover Asian listed investment ideas. The focus will be on 1) yield ideas and 2) small cap ideas.
While Asia's financial markets lagged massively between 2010-2019 these trends will reverse and are likely to be accelerated because of Covid-19. Asia's demographics, overall debt situation and low-oil prices all bode well for Asia's returns going forward. Political turmoil in Europe is all but assured once the Covid situation is under control with the future of the Eurozone project highly uncertain (Italexit anyone?).
In the US capital markets share buybacks were forbidden until 1982. Since 2012 US corporates have spent an estimated 4.5 trillion USD on share buybacks (1.5 trillion USD in 2018 and 2019 alone!) which have spurred massive equity returns. Could the US government ban (or severely restrict) buybacks again? Given the farce playing out with US airlines (all want to be bailed out, yet spent 90%+ of their FCF in past decade on buybacks) this is not impossible. The trend to balance sheet optimization has come to an end. Asia's corporates have by en-large been cash hoarders which have made them attractive for raids by aggressive US hedge funds. The Japanese and other Asian cash hoarders might now have the last laugh.
Finally, private equity "insanity" which has been epitomized by "Mr. Softbank" is now hopefully dead once and for-all. Perennially money losing businesses (Uber, WeWork, Oyo etc) attracting billions away from properly managed conservative companies will (god help us!) be gone for good.
While some might not like GMO's forecast we will share their latest projections once again. GMO, a Boston based asset management firm, is now forecasting the best 7-year returns to be coming from "emerging value". Since most of emerging markets are in Asia and all are at multi-decade lows we think Asia is a good hunting ground for stock pickers.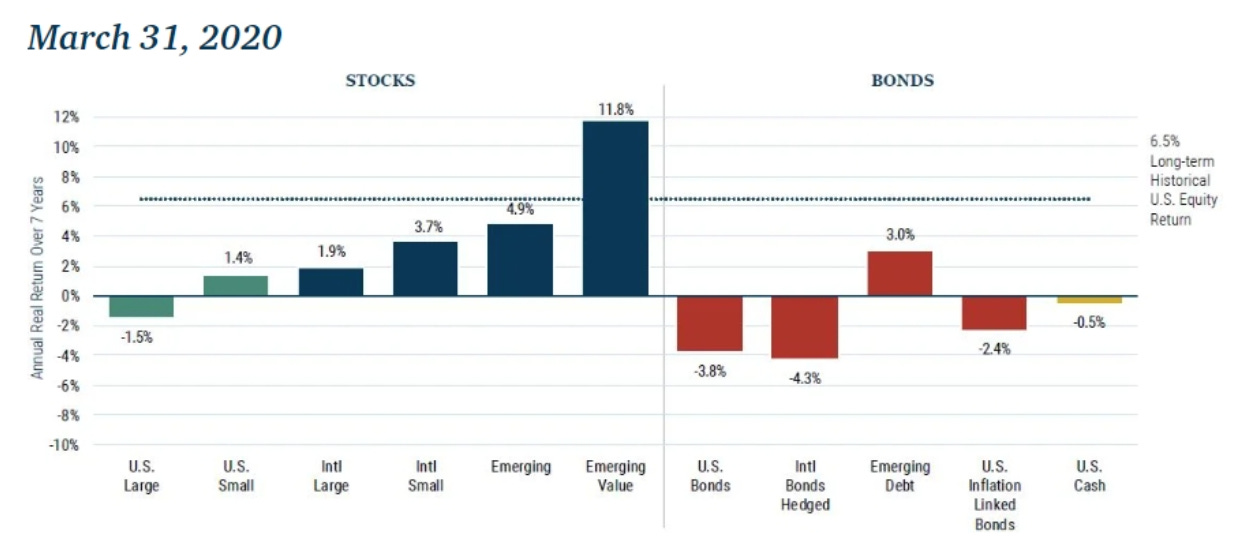 ---
Stupidity
While markets are generally efficient HF&G also sees a lot of stupidity. No clearer example than the continuous ticker confusion between Zoom (ticker: ZM) and Zoom Technologies (ticker: ZOOM). The first one is a often used conference call platform, the latter is a penny stock which has not filed audited financials for years. With companies requiring employees to work from home the use of webcam enabled conference calls has gone up dramatically. Investors saw this coming in January and started buying this trend…the result:
Zoom Technologies (the penny stock) has outperformed Zoom (the real company)!
Thankfully the SEC finally acted late March to halt trading in ZOOM technologies. The stock has not re-opened and will probably get a new ticker symbol.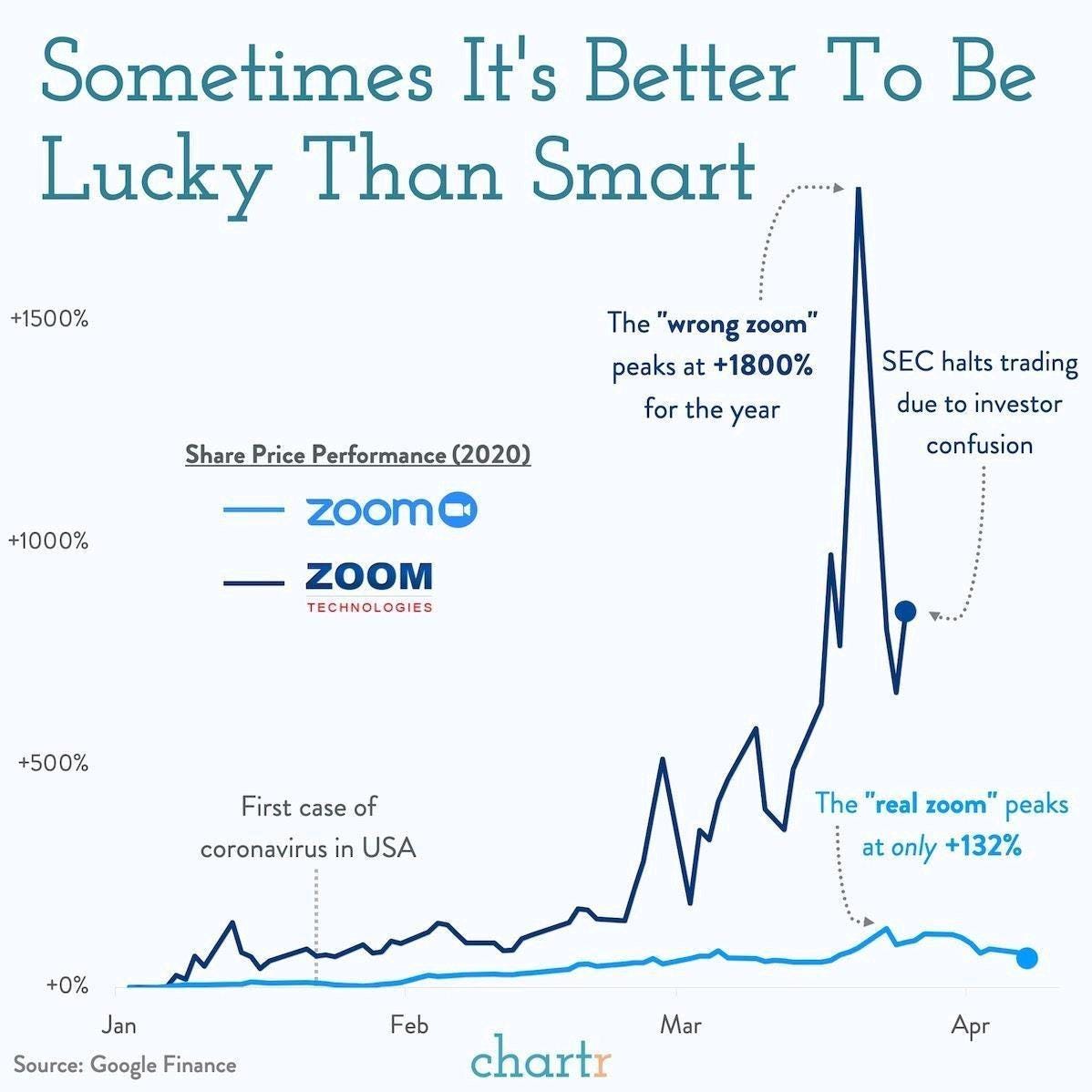 ---
Inevitably, HF&G needs to talk about the only topic that seems to matter to investors these days: Covid-19!
If one is sick and tired of reading about the subject: please scroll down to our section on uranium juniors.
Hong Kong Flu - 1968
Are we living in unprecedented times? Yes, to anyone who was born after 1968. None of us (including this author) have experienced this type of pandemic before.
Going back almost 100 years we had the Spanish Flu (1918) which killed an estimated 50 million people globally. In 1918 they also had discussions about the wearing of face masks which led to some interesting pictures from this time.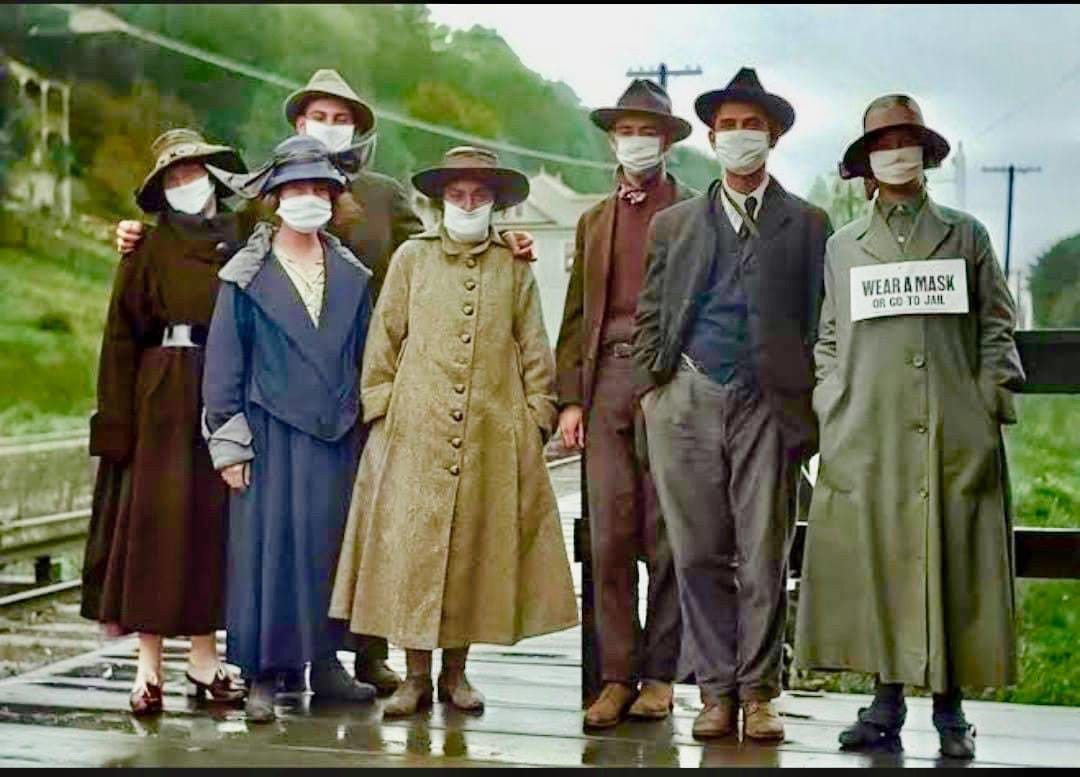 and even in US baseball masks were worn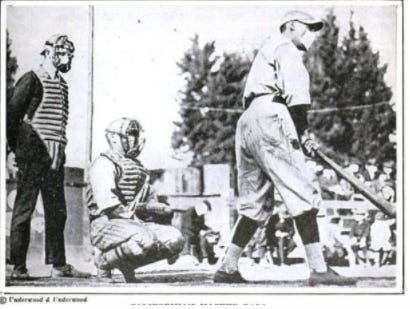 Just as we are experiencing now masks were also part of a "hot debate" and there was a group called the "Anti-Mask League". (source: google)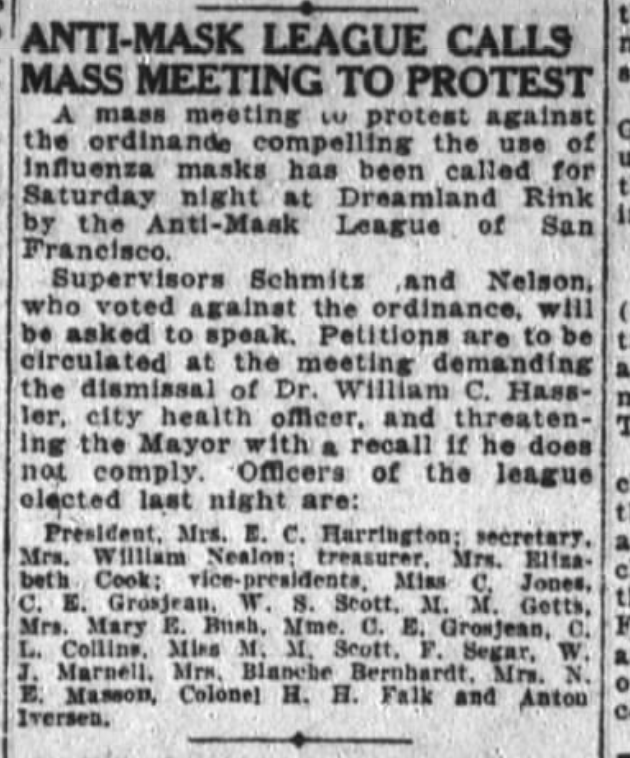 More recently we all remember SARS in 2003 and the Mexican flu in 2009 a less known one is the Hong Kong Flu of 1968.
From Brittanica.com
1968 flu pandemic, also called Hong Kong flu pandemic of 1968 or Hong Kong flu of 1968, global outbreak of influenza that originated in China in July 1968 and lasted until 1969–70. The outbreak was the third influenza pandemic to occur in the 20th century; it followed the 1957 flu pandemic and the influenza pandemic of 1918–19. The 1968 flu pandemic resulted in an estimated one million to four million deaths.
and another history lesson from the South China Morning Post with snippets from its newspaper archives. Look at those headlines and compare them to today's; eerily similar?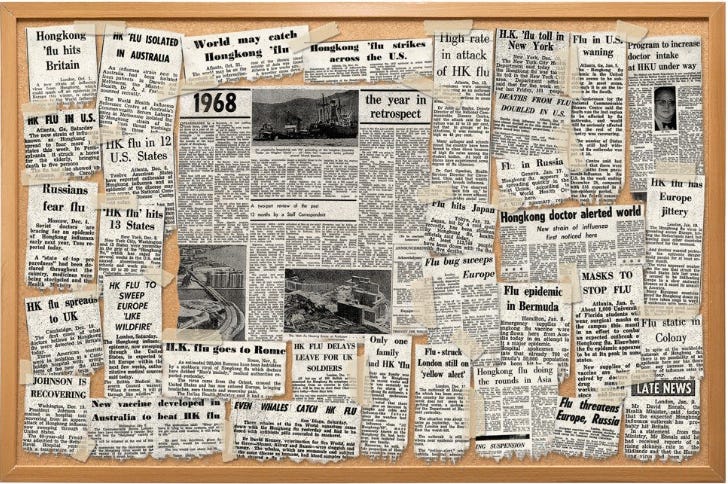 Now given the timeframe of this pandemic (it was also very contagious just like Covid-19) and its global reach (read the Britannica link above for full details) the author asked his parents (both born in the early 1940's) what their recollection was of this terrible period.
Both parents were students at the University of Chicago during these years as they were being taught by the well known economist Milton Friedman. Both of them are currently in good health and have a sound memory but they could not remember a thing about the HK flu. How can they not remember anything from a global pandemic that killed between 1-4 million people?
Their answer: 1968 was a busy year in world history with a war in Vietnam, assassination of Martin Luther King, civil rights riots across America, May 1968 protests in Paris, Robert Kennedy was shot, mass famine in Nigeria, the Mexico Olympics, etc. One year later Woodstock took place and everyone lived in peace and harmony. Meanwhile the HK flu still ravaged on until 1970. Most importantly, there were no lockdowns, no shutdowns of the economy as the market and businesses stayed open. The risk of catching the virus was there yet people went along with their daily lives. Some started wearing face masks to protect themselves. News media existed at the time but were not 24/7 "monsters" with "death-o-meters". Obviously, there was also no social media in 2020.
Garbage In, Garbage Out
Today there is little time for reasoned debate but an endless stream of short (mindless?) tweets and declarations by epidemiologists and virologists of all walks of life. Are these really the only people's who's opinion should be heard? Especially, when their models are no more reliable than any financial analysis done by Wall Street banks when estimating future earnings or growth trajectories. Garbage in, Garbage out is true in all modelling. The main issue is: unless you test "en masse" you don't have reliable data so you are making errors off bad data. Instead of "evidence based" we are going of "model based". HF&G will tell you: models are often spectacularly wrong and, most importantly, do not take into account all the side effects which are caused by these models.
The world is now choosing a policy to supposedly protect the old and the vulnerable and "flatten the curve" so hospital systems do not get overwhelmed. The children of the world who are massively impacted by the lockdowns have no defenders. Analysing our great G20 leaders we conclude that: they have either no children (Merkel, Macron, Abe) or do have adult children who can be explained what's going on. Canada's Trudeau seems the one exception among world leaders who has young children. When it comes to "climate change" G20 leaders love to crow about "how we are all doing it for our children and grandchildren". During a pandemic the lockdown effects on children seem an afterthought despite the fact that all evidence is pointing to the fact they are at very low risk from the disease and are unlikely to be large transmitters of the disease either! The director of the UN World Food Program has warned that 378 million children in emerging markets who depend on a UNWF for one meal a day at their school will now have no food. He estimates that will lead to over 300,000 child deaths/day due to malnutrition in emerging markets. Please let this sink in.
Looking at the facts unemotionally it seems we are favoring old and/or mostly unhealthy people over young children and healthy adults. Past lifestyle choices (too much alcohol, too much cigarettes, too much sugar, too little exercise, obesitas) and old age seem to the prime determinants in the vast majority of cases if Covid-19 hits you hard or not. To many young children and working adults the draconian choice to lock them in their house seems very unfair given they don't have any symptoms and are capable to work/attend school but have now lost their job, are in emotional distress or see the startup they worked for being bankrupted in a matter of weeks.
US protests against the lockdowns have skyrocketed and instead of social distancing we will get social violence.
According to a WSJ article on 20th of April we are now seeing US hospitals go empty because all other elective surgeries/medical follow-ups are being postponed due to the unison focus on Covid-19. US hospitals now get paid MORE money if a patient is put on a ventilator and died of Covid-19 even if no test was performed to diagnose he/she had it. What could ever go wrong with incentives like this? Has co-morbidity stopped or do people only die from one reason in 2020?
Governors have likewise ordered providers and citizens to reschedule "non-essential" appointments. For better or worse, these directions are being stringently observed.

Hip and knee replacements are being delayed, but so are mastectomies. Some doctors are pausing chemotherapy treatments for less aggressive cancers due to government recommendations but also to avoid suppressing patient immune systems. Preventive screenings including mammograms, colonoscopies and melanoma checks have been cancelled.

It's impossible to forecast the human cost from this suspension of care. Aggressive cancers may go undetected. Chronic conditions that have been controlled with regular check-ups and medicines may worsen. While doctors can prescribe drugs over the phone or web, physical exams and medical imaging are needed to diagnose many ailments.

Then there's the financial cost to the health-care system. Most doctors and hospitals make most of their money on elective procedures for privately insured patients. Now their largest revenue stream has dried up. Outside of a few hot spots, few providers are inundated with coronavirus patients. They are having to cut pay and furlough staff to stay afloat.
Now one could say: "you are not an epidemiologist or virologist, your opinion is definitely wrong!". This really doesn't matter. The author received a brain, can do basic math, reads and listens to many informed podcasts and intends to continue using his brain and common sense as long as possible. Covid-19 has an impact on any investment decision you are making today so one needs to think and talk about it.
Superforcasters
After reading a book called Superforcasters by Philip Tetlock HF&G is even more convinced we should be wary of all the modellers. Tetlock analyses what it takes to become a superforcaster. This would be an individual who can predict future events consistently with a high degree of success. Surprisingly, Tetlock proves that the best forecasts are made by people who are NOT experts in a particular field. He further proves that "experts" are more often than not spectacularly wrong due to groupthink and clinging onto "core beliefs" when conflicting evidence comes to light which should actually change their opinion. According to an article written by Leonardo Drago (Business Times 18 April 2020) a group of the best super forecasters is now calling for 4 to 7% of the global population to get infected and less than 0.5% of those infected to die from the disease. These numbers would be dramatically lower than the doom and gloom predictions coming out of Imperial College (to name just one). These death figures would also compare to the HK flu of 1968 when the world did not enforce lockdowns.
Below we include a snapshot (source: MSNBC) from a press conference (9th of April) by NY's Andrew Cuomo. The Governor claimed he needed 30,000 ventilators in late March in an emotional TV speech. Cuomo can't be blamed for freaking out about the shortage of ventilators as he was relying on various models predicting astronomical case loads at NY hospitals. See the RED, GREEN, YELLOW and ORANGE line of what he was being told by various experts. Now let's look at the blue dotted line of what was happening until mid-April. Actual results were nowhere near any of the predictions given to the Governor. Some NY hospitals were overwhelmed, many were not. The hastily constructed field hospitals in Central Park are mostly empty. We have seen similar scenario's in the UK, Belgium, Sweden, etc which were all dramatically off target. If the blue dotted line would have been the forecast from Day 1 would the call to shutdown the NY economy been as loud?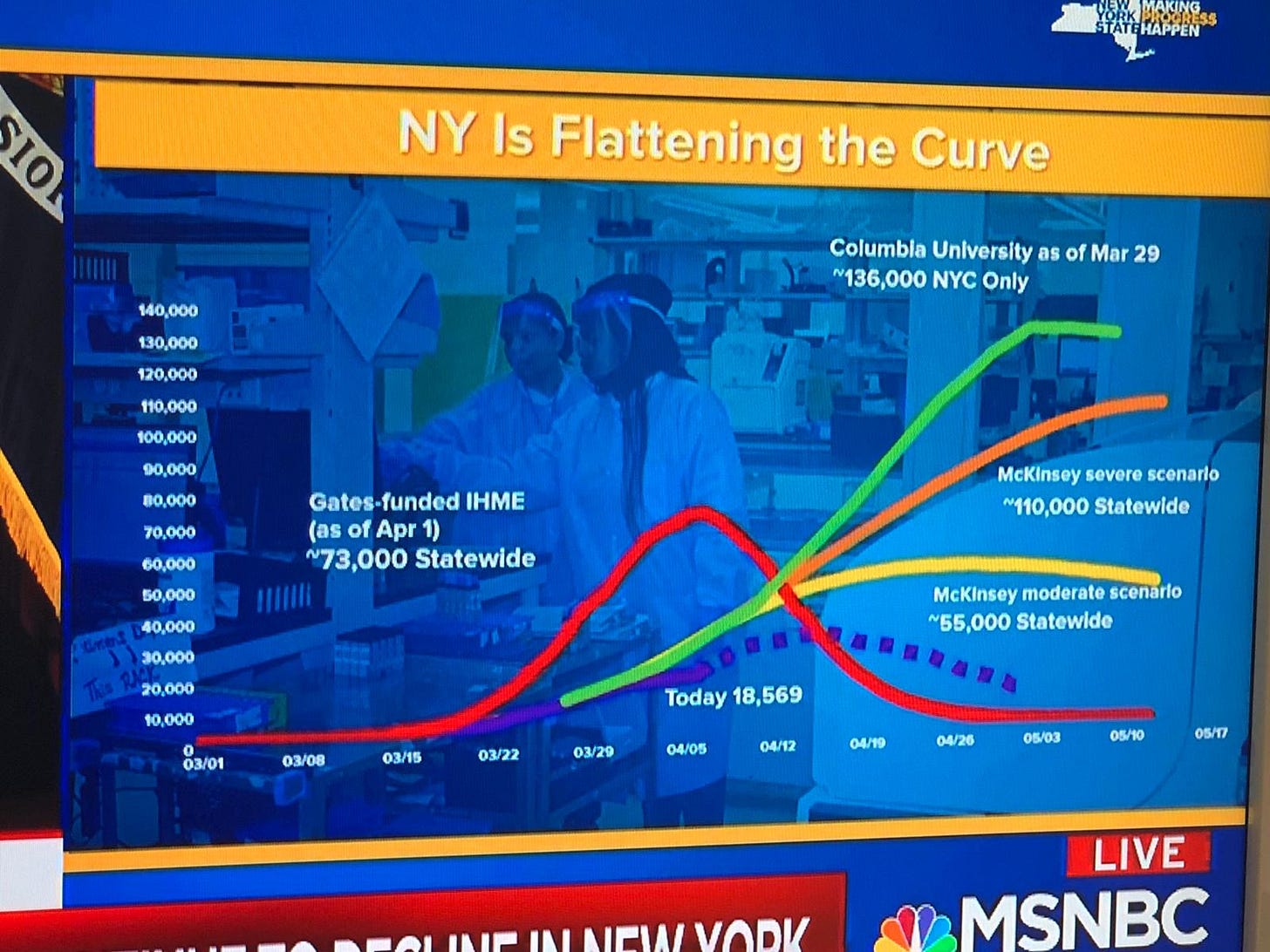 The Financial Times had an excellent BIG READ article about the topic on the 16th of April.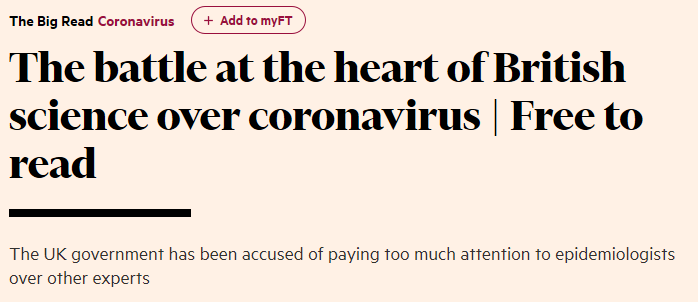 HF&G would like to highlight one of the best articles we have read about the entire saga of testing, hospitalizations, lockdowns, economic shutdowns and homeschooling kids. Jonathan Tepper's piece is a long read (25 minutes or so) but is worth every minute of your time. We quote his conclusion but please do read the whole piece as it is very well researched.
The policies responses in most countries are not targeted, fail to tackle the source of the crisis and will do little to contain future outbreaks. Millions of workers are paying for this calamitous misunderstanding with their livelihoods.
The policy responses in most countries are not targeted

Balancing competing priorities is at the heart making decisions. Today, entire economies have been shut down in order to stop the spread of the virus. We are seeing contractions in the global economy that surpass the 2008 Financial Crisis. Given the extraordinary economic cost, it is worth asking if unprecedented country-wide lockdowns are the most effective policy to deal with the crisis.

Economics and public policy involve trade-offs. The trade-offs are easy to state and more difficult to resolve. The starting point for any discussion should be: what achieves the maximum savings of life at the lowest cost to the economy?

Should we only ban public gatherings? Should we only allow essential work in supermarkets or banks? Could we isolate those most at risk and allow others to move around? There is a spectrum of choices. How badly hurt will the economy be hurt by each measure and what impact on the spread will each have?

Given the extreme differences in how the virus affects the young and the old, it is worth asking if a countrywide lockdown is the right policy.

If hospitals and retirement homes are one of the main transmission vectors and the disease and the virus overwhelmingly affects the very old and sick who have multiple existing conditions, shutting the entire economy will not solve the problem.

Policy measures so far have been indiscriminate, shutting entire economies. Little has been done to make sure that people are isolating, rather than visiting hospitals. Doctors and nurses still lack proper protective equipment, and many hospitals are still mixing Covid-19 patients with those who are not infected.

Until we properly diagnose the problem facing us, we will not emerge from this crisis. The virus will continue to spread, and economies will collapse.

What benefit can come from banning jogging in parks or children playing in a playground as is happening in the United States and many European countries? How could it make sense to close schools if children are barely affected and they will develop immunity if exposed? How can such a sledgehammer approach work if over half of all cases can be traced to hospitals and retirement homes?

The policies responses in most countries are not targeted, fail to tackle the source of the crisis and will do little to contain future outbreaks. Millions of citizens are paying for this calamitous misunderstanding with their livelihoods.
Another interesting perspective comes from the man featured in the The Big Short Hollywood movie: Michael J. Burry. He is an MD by training but later converted to being an investor and made a buck or two during the 2008 GFC. His updated thoughts can be followed on Twitter where he refers to himself as "the weird one".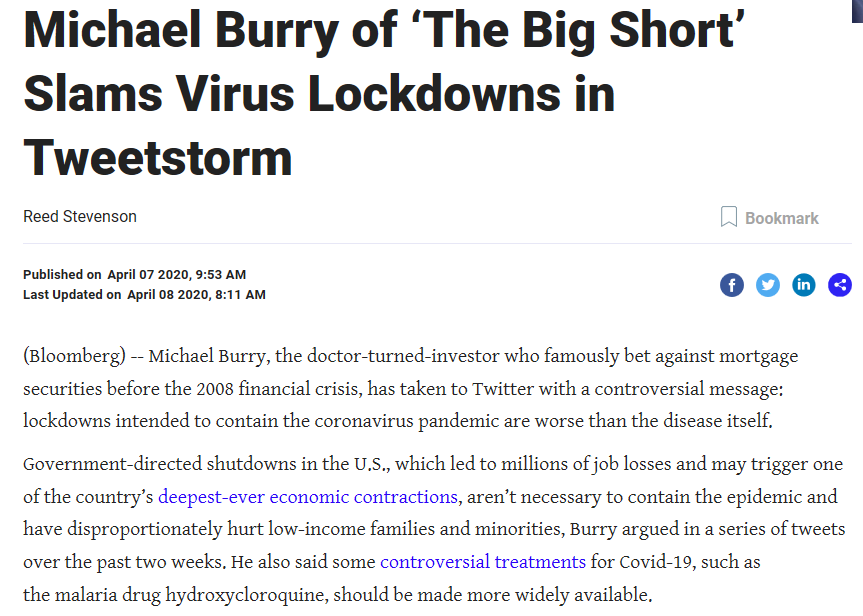 Flatten the Fear
Readers might ask "why all this rambling about Covid-19? We read it about it all the time already! Just focus on stocks."
While this is true reality is that every stock is either positively or negatively impacted by Covid so we need to talk/think/discuss/agree/disagree about it.
The above illustrates HF&G's broad views that the risk (the virus) / reward (global economy) has gotten completely out of whack. People have died of a variety of reasons all the time. People will continue to die for a variety of reasons in the future too. Outside a few hot zones we have NOT seen an unbelievable "off the charts" CFR globally. Covid-19 is just another risk we will have to live and deal with. Chinese scientists predict Covid-19 will come back each year like the flu. The world never found a vaccine against MERS or SARS, what makes us so optimistic we'll find one now? There are 76 companies trying to come up with a vaccine and some early results from Oxford and J&J look promising but we just won't know for many months if they are effective. There is hopeful news from Gilead's remdesivir which met its primary end point and is now waiting emergency FDA approval. Shutting down the economy until a vaccine is around just seems total idiocy. It is time to Flatten the Fear instead of Flatten the Curve. The chances of getting the virus are actually very low.

We never freak out about death as much as we have with this pandemic.
As an investor in Asia for the last decade HF&G has visited many far flung plantations in Indonesia, small towns across the region, factories in remote locations in Indonesia, Philippines, Vietnam, Thailand and China where numerous risks exist. The author has endured "death" rides in the back of countless cabs in Jakarta, Manila and cross country China. Visits to India have led to severe salmonella, dehydration and high fevers for multiple days yet investors/tourists travel to those regions knowingly and willingly all the time. We accept we take risks. Covid-19 can be lethal but with an estimated CFR of less than 1% (or maybe even 0.2% as Michael Burry argues) the vast majority of people (99%+) without underlying health conditions and below 65 years old will survive.
Funny Twitter user comments along the same lines: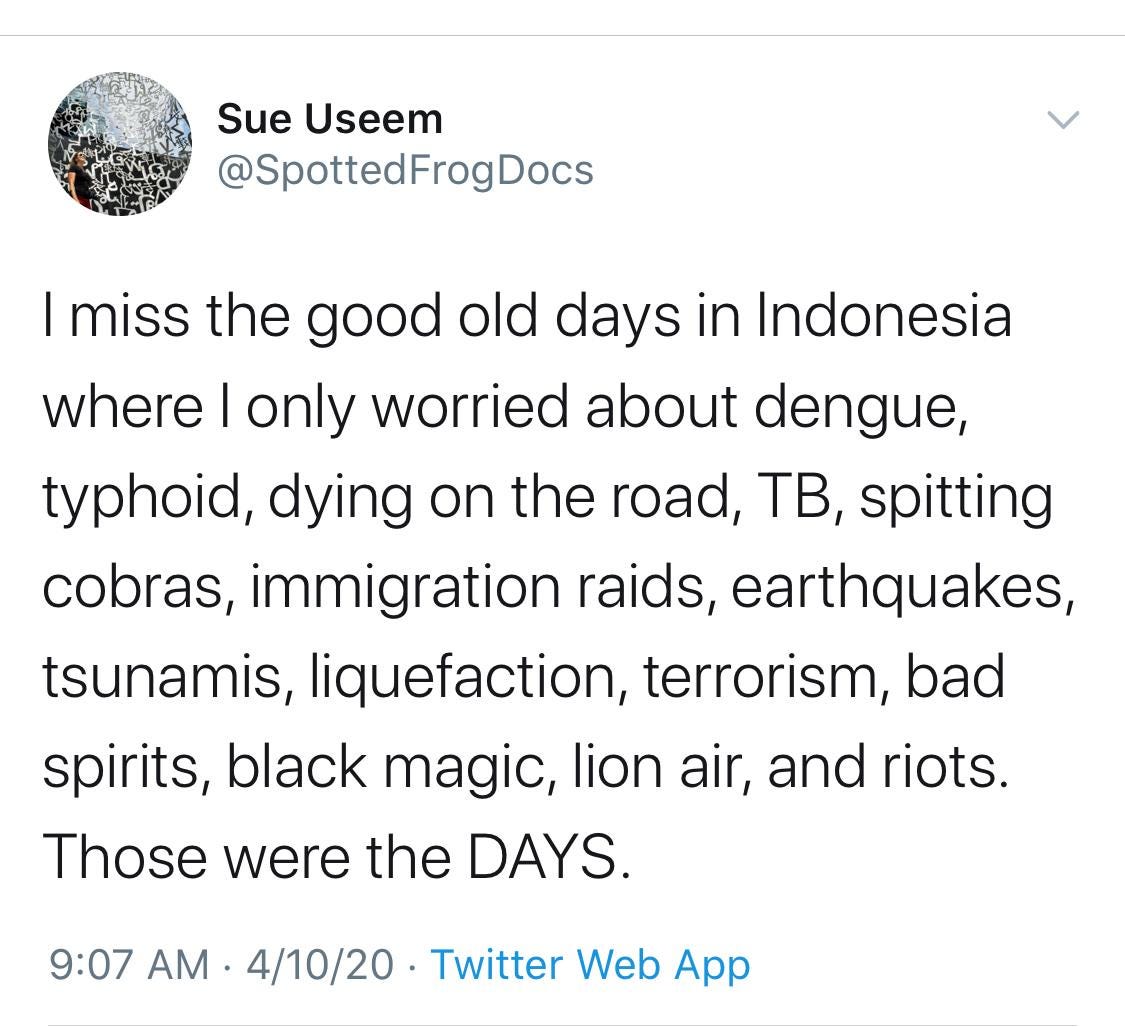 HF&G view: there is a very large chance we will look back at this entire episode and realize it was a massive error in group-think and hysteria while saddling future generations with mountains of debt and current generations with record unemployment, financial ruin, anxiety, marital troubles, domestic violence and depression. As investors we have to play with the cards we are dealt with but the notion that governments will act in the interest of the vast majority of its population is now definitely out of the window.
Finally, please listen to Professor Johan Giesecke, one of the world's most senior epidemiologists, advisor to the Swedish Government (he hired Anders Tegnell who is currently directing Swedish strategy), the first Chief Scientist of the European Centre for Disease Prevention and Control, and an advisor to the director general of the WHO.
---
URANIUM JUNIORS
Now, let's bring our focus back to Asian stock ideas. The first issue in February 2020 was about a single stock idea which remains an undiscovered gem in Asia and has a consistent dividend track record. The second issue in March 2020 highlighted three stocks/assets for a V-, U and L-shape recovery scenario.
In this issue we will focus on one particular asset class: uranium. Just like gold (as discussed in March) this asset class is "yellow" and is needed to power nuclear plants. Loved by some, loathed by many, uranium will play a role in powering the global economy for a long time. If you are a believer in a 100% renewable energy future with wind, biomass and solar please watch Michael Moore's documentary first. Al Gore might tell you otherwise but given how he has been exposed as the ultimate hypocrite one better think critically. Uranium has the best energy density of any fuel source.
Bottom line: Uranium will be needed. What's the biggest risk to the entire thesis? A new nuclear accident like Fukushima in March 2011. If a new nuclear accident happens the uranium thesis won't work.
The uranium market has been in a bear market for a decade but lately the uranium price (source: https://tradingeconomics.com/commodity/uranium) is finally showing signs of life.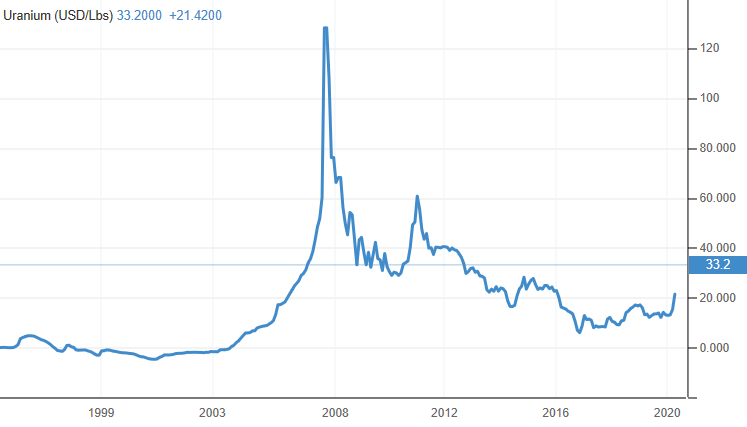 Uranium prices have rallied over 30% YTD because supply disruptions from Cameco (largest listed uranium producer) and Kazakhstan (biggest global producer) are spooking investors. The last uranium bull market was started by Cameco shutting down Cigar Lake. What happened this month? Cameco shut down Cigar Lake.
The last big uranium bull market was in 2007 when prices peaked at 140 USD/lb. The nuclear incident in Fukushima prolonged the bear market for uranium which has resulted in just 62 uranium companies remaining. In 2010 there were over 400 uranium companies. In 2020 there are only 7 assets globally which are currently producing uranium.
The lack of active players, a commodity price which has been below the cost of production (estimated to be at least 35-40 USD for most players) will lead to a new bull market in uranium. Uranium is an opaque market where the spot price can diverge widely from long term contracts signed between nuclear power plants and uranium producers.
According to the World Nuclear Association a big supply shortage is in the making as China and India continue growing their nuclear footprint. There is a higher demand for uranium in 2020 than prior to the Fukushima accident. Given the low spot price there is no incentive to bring on supply (source: Paladin energy).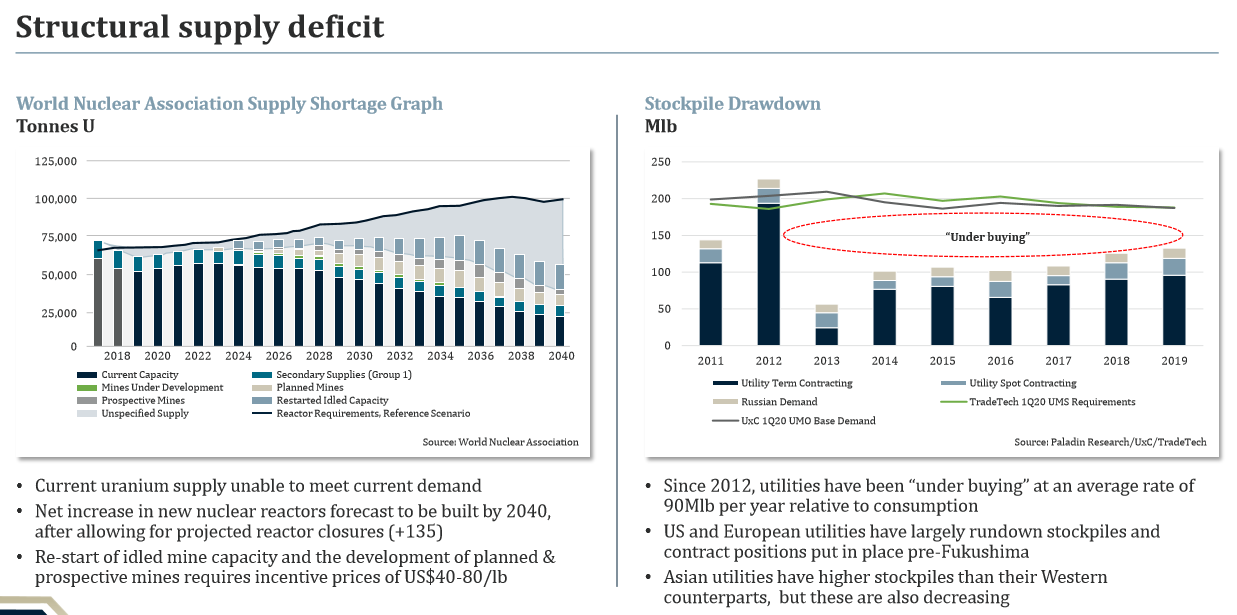 Who are the buyers of uranium?
Utilities and governments. Utilities use it to keep the lights on (power nuclear plants) and governments buy it for their armies. Given Covid-19 does one expect nationalism and tensions to increase or decrease globally? Already, US governors are suing China for Covid-19 damages. The US government has also realized it cannot rely on foreign supply chains in critical elements such as protective medical gear. Imagine, they cannot buy uranium from Kazakhstan or Canada because of a political or military conflict. Is this a risk the US government wants to take?
Enter: Donald Trump.
He created the Nuclear Fuel Working Group (NFWG) which on the 23rd of April advised the US government to create a strategic reserve of uranium and buy uranium from US producers. If the US starts doing it, will other countries follow? Will there be a global scramble to secure supply? Germany's Angela Merkel announced her country's exit from nuclear in 2011 but some of her political opponents and even party members are calling for a delay to that plan. The potential election of Merz as head of the CDU could be a game changer. Uranium investors should watch the German CDU elections closely.
Uranium constitutes a tiny fraction of running a nuclear plant but it is critical. Will the current supply shocks send utilities scrambling to secure supply? Judging from below graph US and EU utilities need to think about securing 2022-2027 supply pretty soon. It takes 18-24 months for uranium that is mined to be shipped to uranium plants so these decisions are coming up very soon.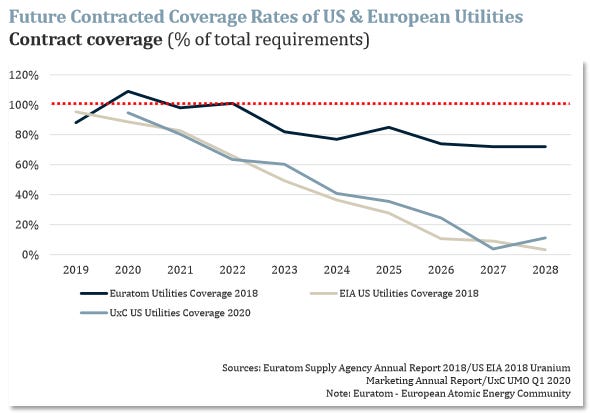 How to play the potential uranium bull cycle? You can buy a uranium tracker but given the blow-up in a recent oil ETF (oil prices went negative!) those products could well be outlawed for retail investors sooner than you think. The most logical alternative is via uranium operators listed globally. There are listed players in the US, Canada and Australia. Given our Asian focus we will stick to the Australian names just as we did with gold. One cannot blanket buy just any uranium mine as some have very high costs, bad management and are in high risk jurisdictions.
Just as with gold we will be adding a few junior miners as our basket play on Uranium. While we gave away our gold picks to all readers we will be revealing our uranium picks to subscribers only. Just as with gold if we are correct in our uranium bull market thesis these junior miners will run very hard between 2020 and 2025. Most of our uranium picks could at least double or triple if our uranium bull market thesis plays out.
That's it for this month! Stay safe and healthy and our next update will come late May.
Final Note: as we are continuously looking to improve HF&G please let us know your thoughts or suggestions in the comment section OR email us at contact@huat.co