HF&G: ISSUE 2 - MARCH 2020 - GOLDEN' MOVIE TIME!
In full-on Corona crisis, we assemble three investments for three different scenarios: V-shape, U-shape and L-shape recoveries.
The past month has seen the quickest sell-off in global stock markets ever. While March is not over we can safely say it was a HISTORIC MONTH (source: Jim Bianco Research). Since World War 2 this month is now featured 9 times in the biggest up/down days on the S&P500.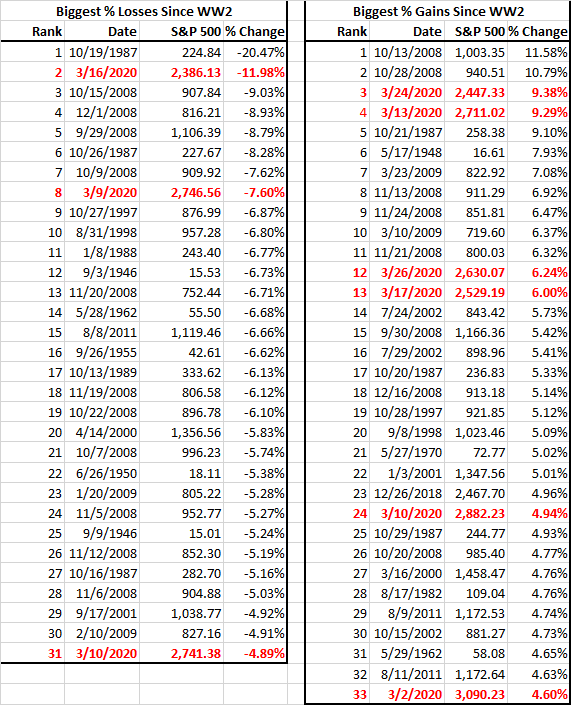 While we won't dwell too much on the epidemiological issues (as you will have surely read hundreds of articles about it already), we can look at history and see how markets have reacted to health scares before. To be fair, we haven't seen a global pandemic since 1918 (Spanish Flu) so the algorithms of Wall Street's biggest banks have no reference point. Do not believe any investment bank or "market guru" if they predict how this will exactly play out. Your guess is as good as theirs.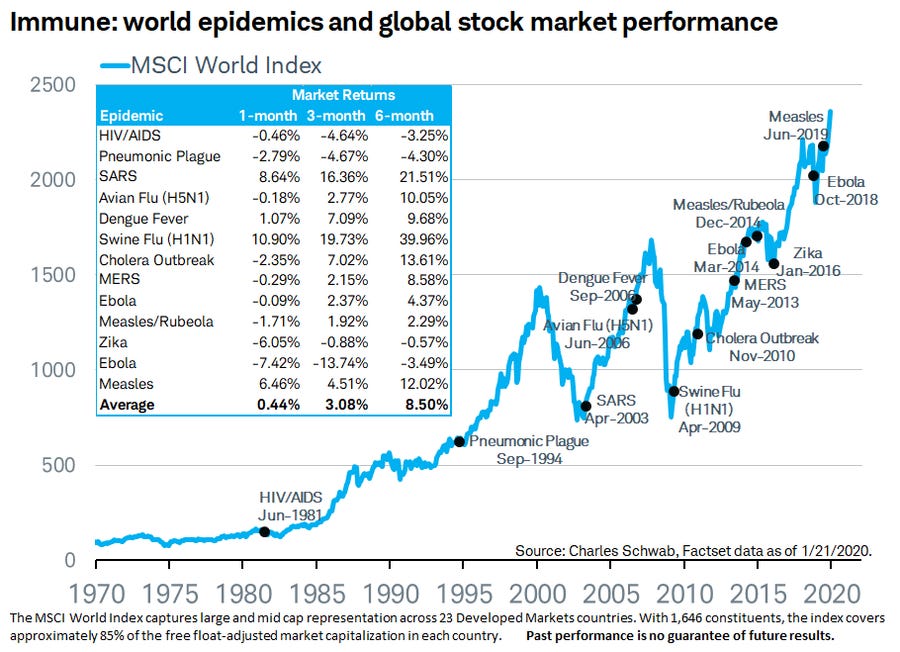 Investors are now faced to ponder what kind of recovery we will have:
V-shape, U-shape or L-shape.
HF&G view is: we don't know… so we have to find companies/assets that are ideally prepared for any scenario. The outcomes are so vastly different that if one believes in V-shape it would be best to own companies with debt, related to travel/leisure/luxury and avoid low-risk staples such as supermarkets. If one believes a U-shaped recovery is likely we should (for now) absolutely avoid highly-impacted economic sectors such as hospitality as the pain will last much longer than equity investors can endure and focus exclusively on staples stocks which pay regular dividends. Finally, if we bank on an L-shape scenario there is probably only one asset to own.
Kid in Candy Store…
Being an investor in Asia right now is like being a kid in a candy store. It is hard to know what stocks to pick first. Asia already started off from much lower valuation multiples vs US indices so it has potentially already bottomed. Below price-to-book (PB) overview was compiled by Maybank (20/03/2020) and given the volatility in markets this has been changing a few percentage points every hour/day recently.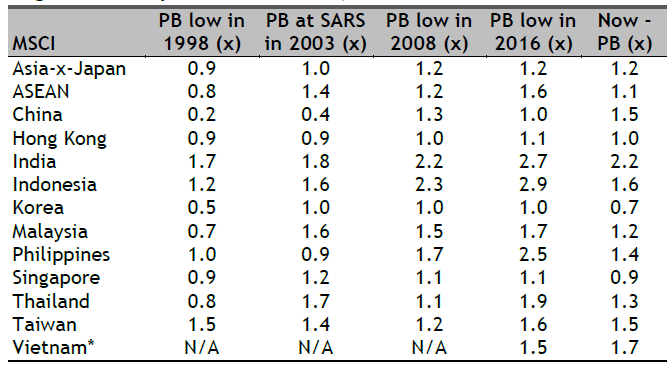 Most Asian markets were lower during the Asian Financial Crisis in 1998 but both HK and Singapore (the regions most important capital markets) today are at the same PB levels already! Please note China at 0.2 PB in 1998 but we think that is really not comparable to China's standing and economic size today.
… But for how long?
Depending on your outlook how the epidemic evolves and how much havoc it creates for economies globally it is wise to have different companies with different outlooks:
V-Shape: Back to Normal by 3Q20 = MAJOR CINEPLEX @ 12 THB (MAJOR TB Equity)
One sector which has been hit particularly hard is anything to do with live entertainment, hospitality, F&B, etc. While some hotels and restaurants have been allowed to stay open (depending on which Asian country one looks at) virtually all have closed down their cinema's. One such example is Bangkok listed MAJOR CINEPLEX (MAJOR TB EQUITY). Major's current market cap is 360M USD (11.87 billion THB) and has an EV of just over 460M USD (15.1 billion THB). The share price chart (source: Refinitiv) speaks for itself. The yellow dots represent the consistent track record of dividend payments.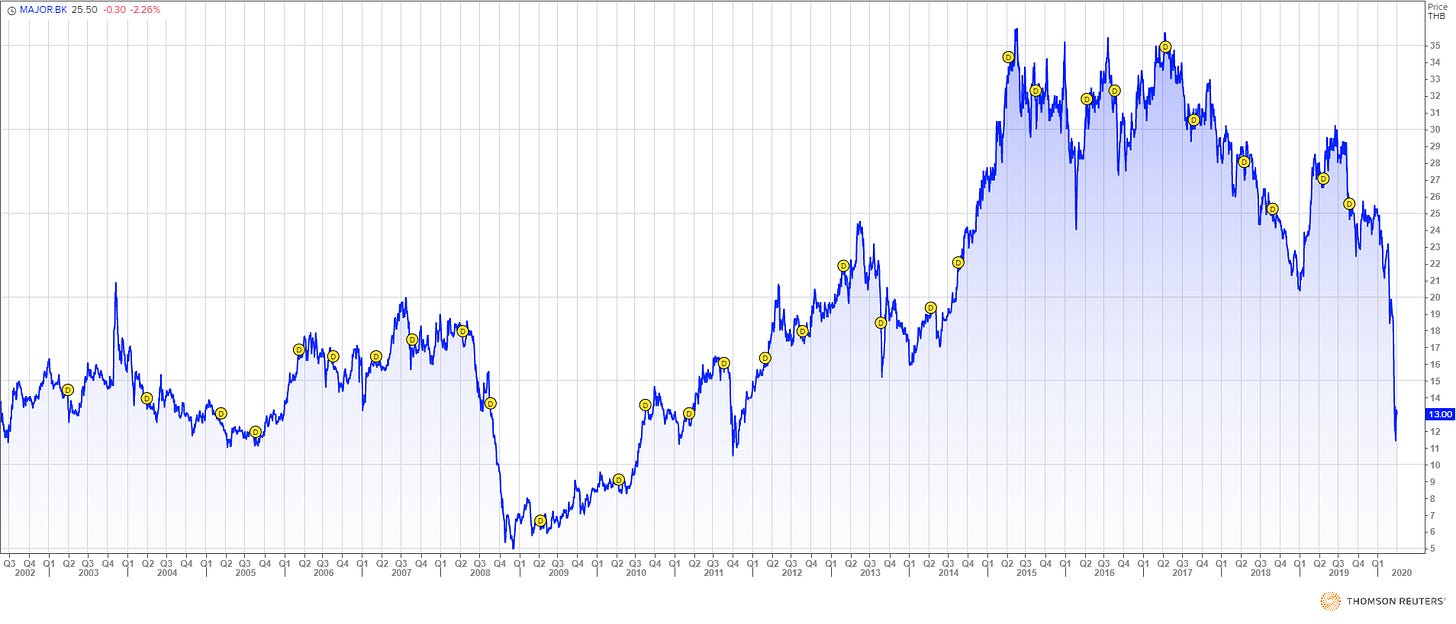 MAJOR was listed in May 2002 and has grown from 123 movie theatres to over 814 late 2019 (source: company). The company has 70% market share of cinema's in Thailand, a country with a population of 69 million. MAJOR is suffering but just imagine how its competitors must be hurting.

MAJOR has consistently been profitable since its IPO in 2002 (note: we exclude one-off loss incurred on the integration of its Thai content subsidiary in 2004) and highlight the company's key metrics since 2010. If we add up all the dividends paid between 2010-2019 we arrive at just under 11 THB/share.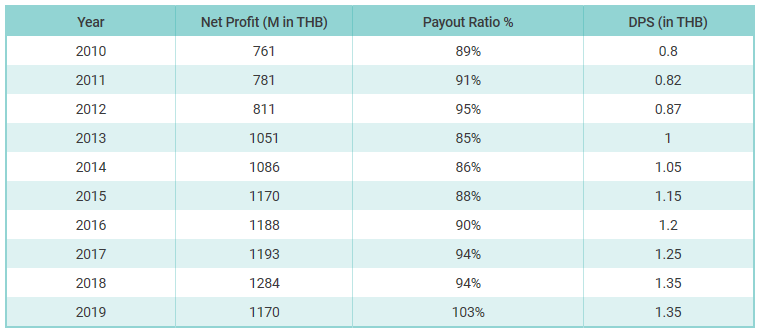 Now the future is uncertain and Major might never recover but if we assume that the Thai population will continue to look for entertainment between 2020-2030 this could be an attractive investment. If it becomes a V-shape recovery (virus impact not beyond 3Q20) then Major will run hard in anticipation of a business rebound. If the virus takes longer and wreaks havoc for the rest of 2020 the whole year might be a write-off and Major's stock probably ticks lower.
Investors should know that as owners of a business we are entitled to its future cash flows into perpetuity. If we assume Major does NOT grow from its 2019 net profit level, has 0 earnings in 2020 and no profit growth between 2021-2030 but pays out 95% of its annual earnings investors will receive 12 THB in dividends which is equal to the current share price! To be clear: this is NOT our actual forecast but an example to highlight how depressed its current share price already is.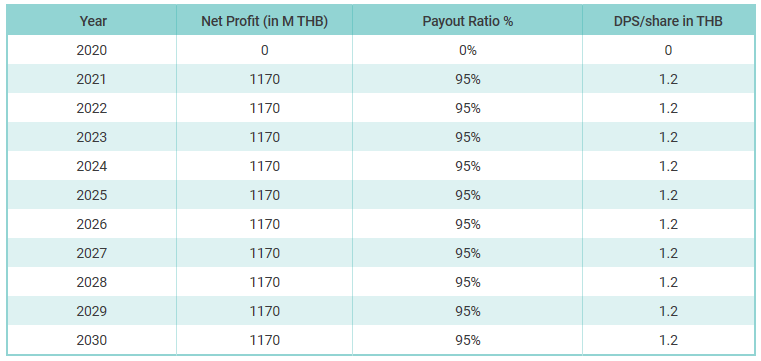 HF&G Bottom line: MAJOR is a dominant franchise in Thai entertainment controlled by its founder and Chairman. The results history and dividend track record are self-explanatory. With all of its cinema's already closed and business dead in 2Q20 the 1H20 results will be very weak short term. Since the company will likely lose money in 2020 we have to look what normalized earnings could be. Assuming the company is able to replicate its FY19 financial result in FY21 the stock currently trades at less than 10x P/E. Over the past decade MAJOR has traded at 18.85x P/E on average. Investors will receive 0 dividends in FY20 but the stock is likely trading at an 11% div yield for FY21. Risks to owning Major outside of Covid-19 are the changes in consumer behavior towards cinema. If one believes that streaming by Netflix & others will displace "a night out at the movie" between 2020-2030 Major will perform poorly in the decade to come. If consumer habits won't drastically change MAJOR is likely at least a 100% return from here in a V-shape recovery scenario.
U-Shape: Back to Normal by 2021/2022 = DAIRY FARM (DFI SP Equity)
Grocery stores have been allowed to stay open across the world as, even in full- or partial lockdowns, people have to eat. In some Western markets supermarkets (Wal-Mart) or online players (Amazon) have rallied strongly as they are recession resistant.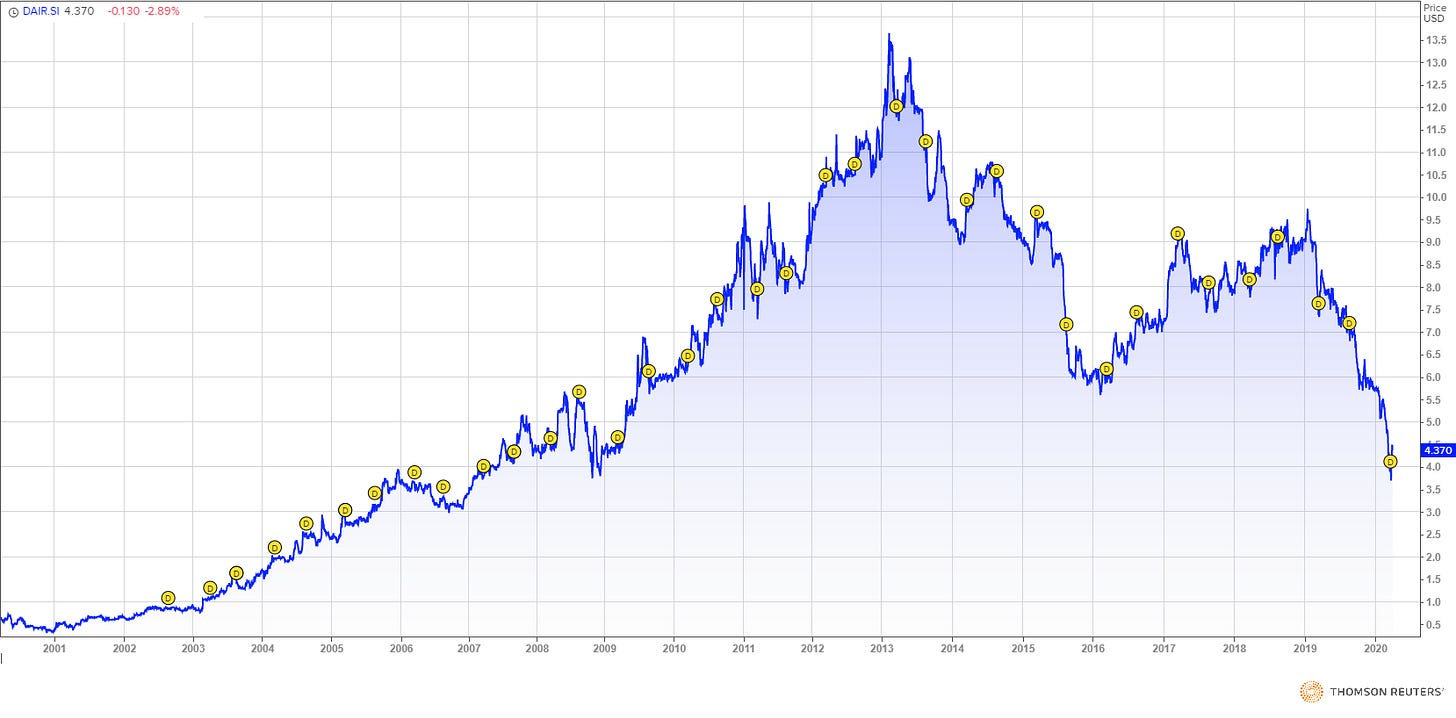 One of Asia's oldest (founded 1886) and most diversified supermarket groups, Dairy Farm (DFI SP Equity), has declined by almost 25% YTD and is off 70% from its peak in 2013. This might be counter intuitive as Dairy Farm's various brands have been going gangbusters in Singapore, HK and Malaysia in 1Q20. We have seen the hoarding first hand. We also noticed less promotions in store (aka: higher margins for the supermarket).
Dairy Farm itself it not a common name across ASEAN but its various brands definitely are. A sample below (source: company annual report). The company recently also won the rights to operate 370 Starbucks outlets in Thailand.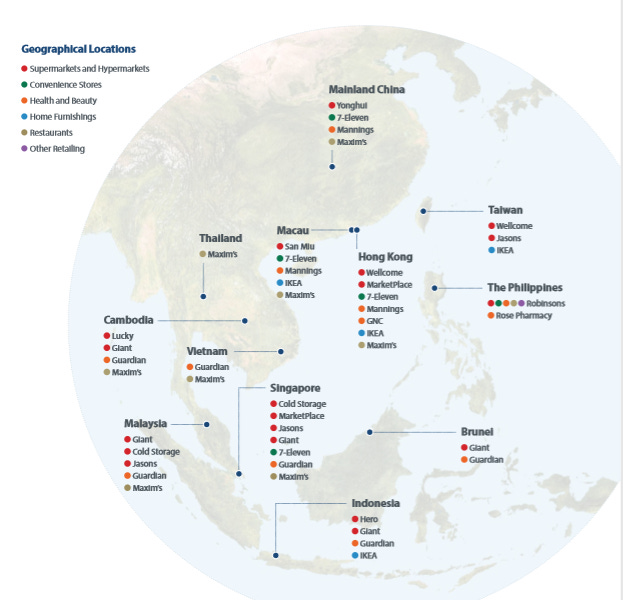 Now Dairy Farm has not been a great performer since 2013. Why? The net profit evolution explains. Dairy Farm has struggled with declining profits for many years. Up until 2016 one could argue the company was simply flatlining but 2017-2018-2019 were not kind to the group.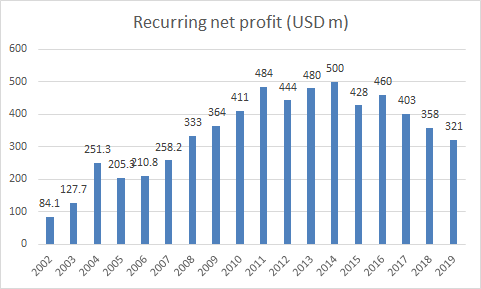 Dairy Farm has experienced frequent management change and has seen its industry leading margin (from 2004-2014) become average (from 2016-2019).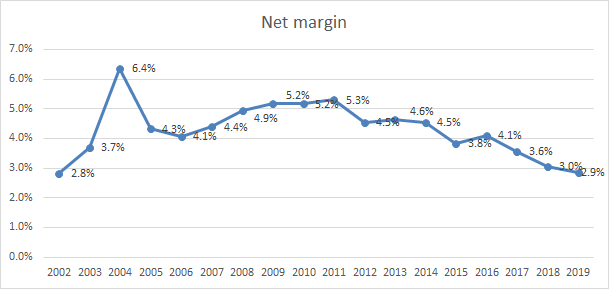 There are several reasons for this: management neglected its e-commerce strategy for too long. Anecdote: in Singapore it was thrashed by up-start RedMart and Cold Storage foolishly did not acquire it when it had a chance. Instead Lazada (Alibaba controlled) bought RedMart and continued to grow it exponentially. When we queried Dairy Farm management about that a few years ago the "arrogant" answer was: "oh, but we also have an online offering and it would just be duplicating it". Of course that was completely false as their website and user experience was horrendous while RedMart had the best interface, user experience and a differentiated marketplace for small vendors to use its platform. Fast forward to 2020 and Cold Storage has re-launched its online presence across the region and is now playing catch-up. We still think Cold Storage can improve its IT infrastructure as our online orders consistently bring items that we did NOT order, or do not bring items we DID order. The group has now implemented SAP across the group so hopefully change is in the air!
Across Asean its Giant Hypermarket format was also outdated but this has also been addressed with 70 of its Giant Hypermarkets seeing a refresh already. Older non-performing Giant stores were also closed down.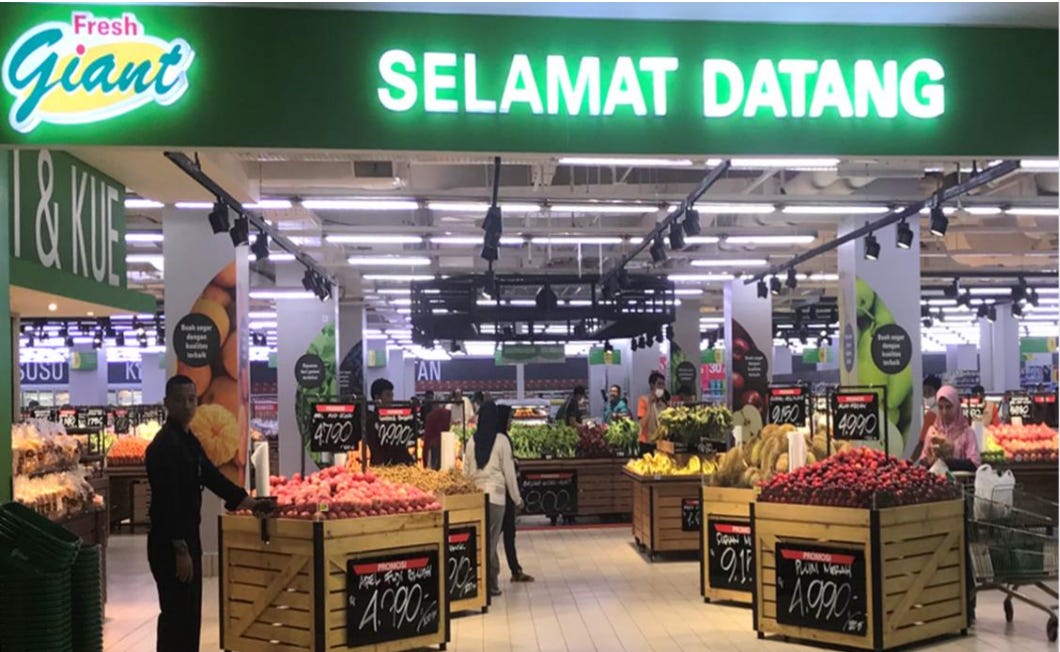 Since 2017 Ian McLeod has been the CEO. He previously built up a track record while at Australian supermarket Coles but improvements will need to come sooner rather than later if Ian wants to retain his job. Time will tell.
Late 2019 Dairy Farm operated over 10,533 stores across its different segments (source: company).

While groceries (50% of revenues, but just 11% of profits) are the dominant revenue driver for Dairy Farm the cash cow and growth engines are Health & Beauty (22% of revenues, but over 50% of profits), IKEA (5 of revenues, but over 10% of profits) and restaurants (9% of revenues, but over 16% of profits).
Groceries have been weak because of the issues explained above but management has communicated a "3 Phase transformation plan" to address this: more fresh, better white-label brands, more specialty concepts, improve IT infrastructure, better value proposition across different segments etc, grow in China, maintain its strong HK position, fix problems in ASEAN concepts, etc.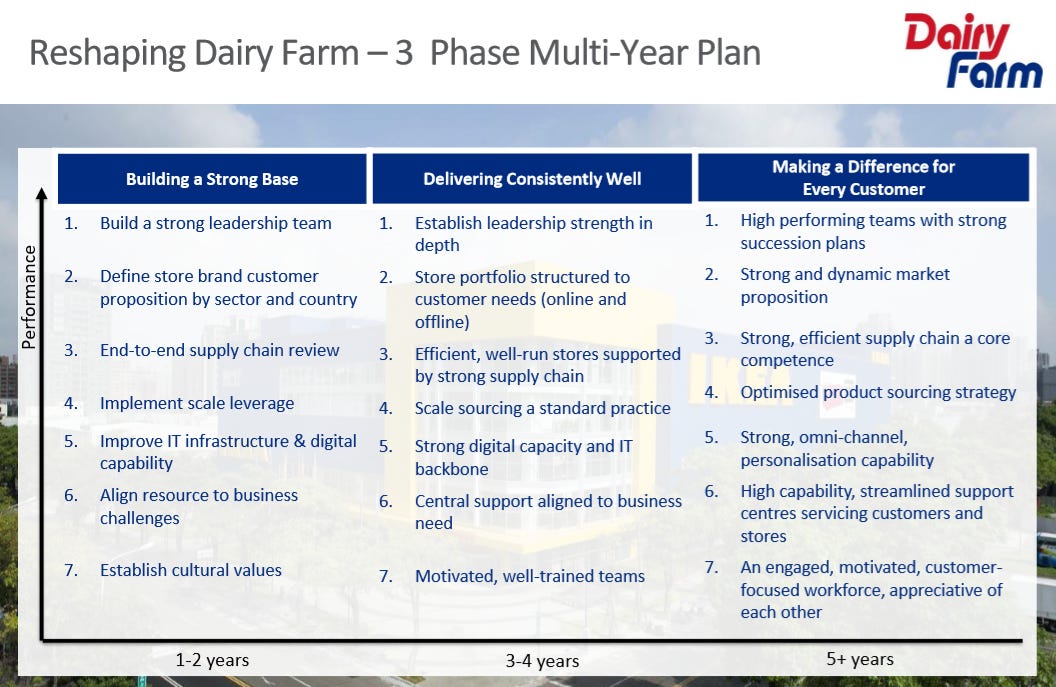 Covid-19 might actually help groceries turn the corner quicker as its stores will have to be less promotional and competitors' e-commerce ordering slots are jammed due to high demand. Additionally, when holed up at home for prolonged times the daily "activity" for many will be to have a trip to the supermarket. People that are holed-up eat more at home which creates a virtuous cycle for supermarket operators.
While you wait for these changes to take effect Dairy Farm, much like MAJOR, has been a very consistent dividend payer. An overview: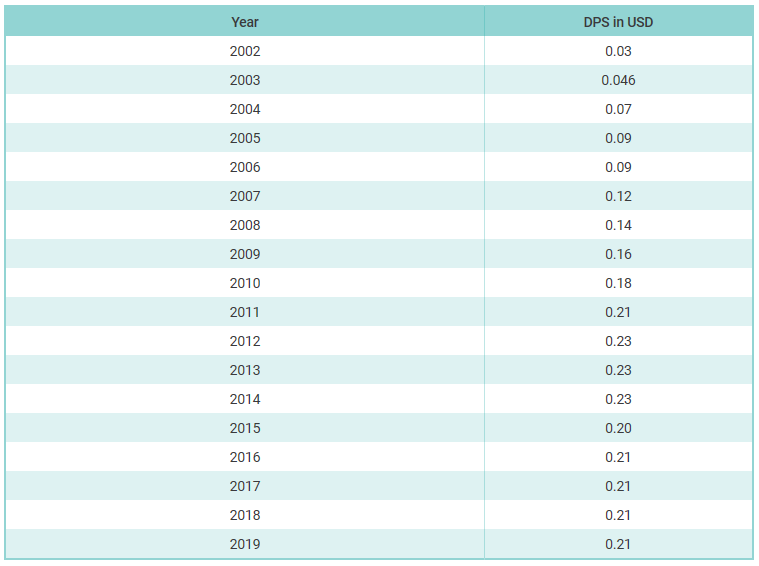 Just as with Major we can conclude that over the past 18 years Dairy Farm shareholders have collected 2.86 USD/share in dividends. This makes up 65% of the current share price. Should we assume that Dairy Farm is able to pay at least 0.21 USD/share from 2020-2030 investors will collect 2.31 USD/share or 52% of the current share price in dividends. Again these are not forecasts, but emphasize that as an investor you are the entitled to the dividends of a company into perpetuity. We don't know what 2030 will look like but are pretty sure Dairy Farm will be around.
HF&G Bottom line: Dairy Farm will do well in a prolonged U-shape recovery. In fact, the COVID-19 pandemic might actually accelerate the profitability of its groceries division which makes up 50% of revenues but contributes less than 15% of profits. Conversely, its restaurant and home furnishings division will suffer because of lockdowns in many Asean countries. Dairy Farm is trading at 15x 2020 EPS and supports a 4.5% dividend yield. ROE is still decent around 25-30% depending on which year one looks at (down from 50%+ ROE in 2004-2014 period). Over the past five years Dairy Farm traded at an average P/E of 25x and 7x P/B. The current valuation is more than 1.5 SD below its 5-year average which is explained by the declining profitability. Dairy Farm net profit margins are unlikely to deteriorate further and could have upside if management is successful in executing its strategy. Dairy Farm's NAV of 6.5 USD/share seems a minimum fair value.
L-Shape: any recovery is slow and outweighed by government debt worries = GOLD
With 7 trillion dollar rescue programs announced globally (led by the US at 2 trillion USD) risks of future economic shocks have gone up. All these trillions will have to be paid by SOMEONE eventually. This debt will not miraculously disappear.
Gold bugs are salivating as they see currency debasement coming globally. With interest rates at 0% (or negative in many countries) the opportunity cost to hold gold has disappeared.
There have been numerous stories across news outlets that there has been a dash for gold. Both screenshots are from the Financial Times over the past week.


In an L-shape scenario we would advise investors to own physical gold. You can speculate with an ETF or other derivatives but make sure the ETF buys the underlying asset and does not blow-up because of any unforeseen circumstances or the financial issuer goes belly up. HF&G will add GOLD as a commodity to our recommended list.
Don't want to buy Gold? But want to own gold equities?
Most large-cap diversified gold miners are traded in the US or Canada but Australia has multiple mid-tier and junior gold mines. We will be adding 3 Australian small cap gold mines to HF&G's portfolio: Red 5, Bellevue Gold and Tesoro Resources. These stocks are ONLY for investors who have an above average risk profile. Even if gold prices go up as anticipated these junior gold miners might run out of money, have a resource which is uncommercial or make dumb corporate governance decisions which squander the opportunity. However, IF well managed a junior gold mine can also be a turbo charged way to profit from a rising underlying commodity. Just in case HF&G wasn't already clear enough: all these three stocks are potential lottery tickets and should be sized accordingly in ones portfolio!
Red 5 and Bellevue have just raised capital in the past month and are now substantially funded (although gold miners are notorious for cost overruns) while Tesoro Resources just completed an RTO in February and is in the midst of a drilling campaign. Tesoro will definitely have to raise capital at some point in the future but hopefully after completing its current drilling campaign.
HF&G Bottom line: Gold has withstood the test of time for centuries and cannot be increased as fiat currency by the printing press. While many believed gold would explode after the financial crisis in 2008 that did not exactly pan out. While Gold could now have its day in the sun and trade substantially higher there is no guarantee it will. Nevertheless we would still advocate some gold exposure in one's portfolio either via owning actual gold bars/coins (preferred!) or via a financial instrument (ETF or selected gold equities).
Final Note: as we are continuously looking to improve HF&G please let us know your thoughts or suggestions in the comment section OR email us at contact@huat.co